Chain branch VTS according to RD 10-231-98
Reconfirm the price with seller
Invoice payment,
Visa/Mastercard,
Cash on delivery,
L/C - Letter of Credit,
D/P - Documents against Payment,
D/A - Documents against acceptance
Customer pickup,
Courier,
Transport company
Less than 1 year old on Allbiz
Technical characteristics
Country of manufacture

Russia
Description
Manufactured in accordance with the requirements of TR TS 010/2011, RD 10 - 33 - 93 (with amendments No. 1 RD 10 - 231 - 98), FNP PB OPO
Production: LLC "SAMSON" , Russia
Slings are made of steel and galvanized chains.
Appointment
Chain slings are made of steel round - link chains of 3 and 8 strength classes and are used as load - gripping devices in the metallurgical, chemical industry, shipping, construction, transport and storage enterprises.
VTS chain branches are used for lifting loads using the "basket" slinging method. For attachment directly to the load, it must have special attachment points with pins or fingers.
Advantages
high strength and durability; safety factor 4: 1;
high flexibility allows the use of large methods of slinging cargo, in comparison with rope;
the ability to use slings at high temperatures, including with an open fire;
it is allowed to use slings without protective pads when working with loads with a sharp edge;
suitable for work in aggressive environmental conditions;
compactness during transportation;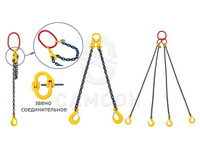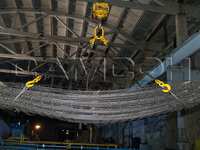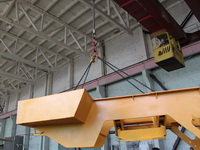 Contact the seller
Chain branch VTS according to RD 10-231-98