Conifast blocks HQGK / HQLK
Reconfirm the price with seller
Invoice payment,
Visa/Mastercard,
Cash on delivery,
L/C - Letter of Credit,
D/P - Documents against Payment,
D/A - Documents against acceptance
Customer pickup,
Courier,
Transport company
Less than 1 year old on Allbiz
Technical characteristics
Country of manufacture

Russia
Description
Country of origin - PRC.
Appointment
The HQGK Konifast block is intended for use as a suspended or branching unit when making chain hoists, completing manually operated lifting mechanisms during construction and installation and rigging works.
Design
Conifast blocks consist of a roller, the axis of which is between the plates (cheeks), as well as a gripper. Manufactured in single and multi - roll versions, depending on the carrying capacity. We offer HQGK blocks with a lifting capacity of up to 50 tons.
The blocks are manufactured in hook (HQGK) and ear (HQGL) versions.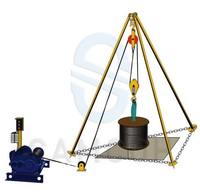 Contact the seller
Conifast blocks HQGK / HQLK