KGP for lifting containers
Reconfirm the price with seller
Invoice payment,
Visa/Mastercard,
Cash on delivery,
L/C - Letter of Credit,
D/P - Documents against Payment,
D/A - Documents against acceptance
Customer pickup,
Courier,
Transport company
Less than 1 year old on Allbiz
Technical characteristics
Country of manufacture

Russia
Description
The elements of the set of devices meet the requirements of TR CU 010/2011, FNP PB OPO
Warranty period: 6 months from the date of commissioning in case of one - shift operation.
The simplest way to move the container is to use a crane using a linear traverse with slings. This type of construction is much cheaper than its counterparts, but requires manual installation of the grips into the container fittings. The delivery set includes a linear traverse, slings (the type of slings at the Customer's choice) and universal high - strength grippers for container fittings.
Traverse for containers is made in two versions:
with the suspension of the traverse on the crane hook for the central eye. This type of traverse is used to maintain a useful lifting height, but the traverse is heavy.
with suspension of the traverse on the crane hook using slings. The traverse of the second type is more stable and has less mass, but at the same time the useful lifting height is reduced.
The offered container kits meet the requirements of the International Convention for Safe Containers (CSC), with attachment only to the bottom corner fittings. The traverse is designed for lifting and moving containers of types 1A (gross weight 30 tons), 1B (gross weight 25 tons), 1C (gross weight 24 tons), 1D (gross weight 10 tons) according to GOST 18477 - 79, or 20 ( gross weight 24 tons) and 40 (gross weight 30 tons) feet according to ISO 668 - 88.
Standard sizes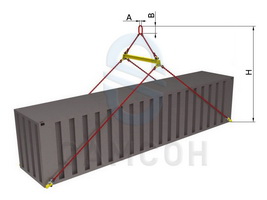 | | | | | |
| --- | --- | --- | --- | --- |
| Designation | g / p, t | H max | A | B |
| KGP 05 (1) 25t L = 20 ft. | 25 | 5000 | 220 | 440 |
| KGP 05 (1) 32t L = 20 ft. | 32 | 5000 | 220 | 440 |
| KGP 05 (2) 25t L = 20 ft. | 25 | 6000 | 200 | 400 |
| KGP 05 (2) 32t L = 20 ft. | 32 | 6000 | 200 | 400 |
* KGP 05 (01) - a set with a traverse with a suspension for the center; KGP 05 (02) - a set with a traverse with a suspension for two points. The name indicates the type of container (20, 30, 40 feet)
Contact the seller
KGP for lifting containers