KGP for lifting sandwich panels
Reconfirm the price with seller
Invoice payment,
Visa/Mastercard,
Cash on delivery,
L/C - Letter of Credit,
D/P - Documents against Payment,
D/A - Documents against acceptance
Customer pickup,
Courier,
Transport company
Less than 1 year old on Allbiz
Technical characteristics
Country of manufacture

Russia
Description
The elements of the set of devices meet the requirements of TR CU 010/2011, FNP PB OPO
Warranty period: 6 months from the date of commissioning in case of one - shift operation.
GZP set for sandwich panels is designed for tilting, lifting and moving soft panels to the place of storage or installation. A set of accessories allows you to work with panels from 50 to 250mm thick and up to 12 meters long. The set includes a traverse and a pair of ZSTu grippers with suspension on slings.
The design of the gripper for the panels is based on the operation of the clamp, which allows you to adjust the compression force, rubber pads are also provided to protect the surface of the load from damage. The adjustable presser foot allows you to adjust the jaw of the gripper, which makes it possible to work with one grip with panels of different standard sizes.
The use of a traverse prevents the jaws from "turning out" and more evenly distributes the load when lifting the panel. It is not recommended to work with grippers for sandwich panels without a traverse, since when it deviates from the vertical, the load on the gripper increases significantly.
Standard sizes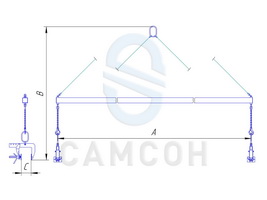 | | | | | | |
| --- | --- | --- | --- | --- | --- |
| Designation | g / p, t | Panel length, mm | AND | IN | FROM |
| KGP 01 0.5t L = 2m | 0.5 | 2000 - 4000 | 2000 | 1900 | 50 - 250 |
| KGP 01 0.5t L = 3m | 0.5 | 3000 - 6000 | 3000 | 2400 | 50 - 250 |
| KGP 01 0.5t L = 4m | 0.5 | 4000 - 8000 | 4000 | 2900 | 50 - 250 |
| KGP 01 0.5t L = 5m | 0.5 | 5000 - 10000 | 5000 | 3400 | 50 - 250 |
| KGP 01 0.5t L = 6m | 0.5 | 6000 - 12000 | 6000 | 3900 | 50 - 250 |
Contact the seller
KGP for lifting sandwich panels