Less than 1 year old on Allbiz
Technical characteristics
Country of manufacture

Russia
Description
The elements of the set of devices meet the requirements of TR CU 010/2011, FNP PB OPO
Warranty period: 6 months from the date of commissioning in case of one - shift operation.
A set of accessories allows you to work with flights of stairs that do not have attachment points, as well as to mount the flight close to the wall panel. The product is a set of slings with a pair of grips for staircases and is intended for mounting a staircase with a given angle of inclination.
Design
The set includes rope slings of the 4SK type with a length of 2.5 m and additional 1SK slings with a length of 1.0 m, with the help of which the angle of the march is set. The design of the grippers allows for quick installation and removal, while ensuring the proper level of safety and reliability of fixing the load. Additionally, the angle of inclination of the staircase can be adjusted by installing the grips on one or another step.
Why is it not safe to install the staircase using only 4SK slings? Since the flight panel is in a horizontal position, when lowering it first rests on the upper span. In this case, the two branches of the sling sag and do not bear the load, therefore the weight of the load is distributed between the remaining branches, which may not be designed for such a load.
Also, the flight of stairs lays down with an edge, which, upon contact, can damage the floor panel or the flight itself. Therefore, it is more expedient to install the staircase panel with the panel inclination, in which case these risks will be minimal.
Standard sizes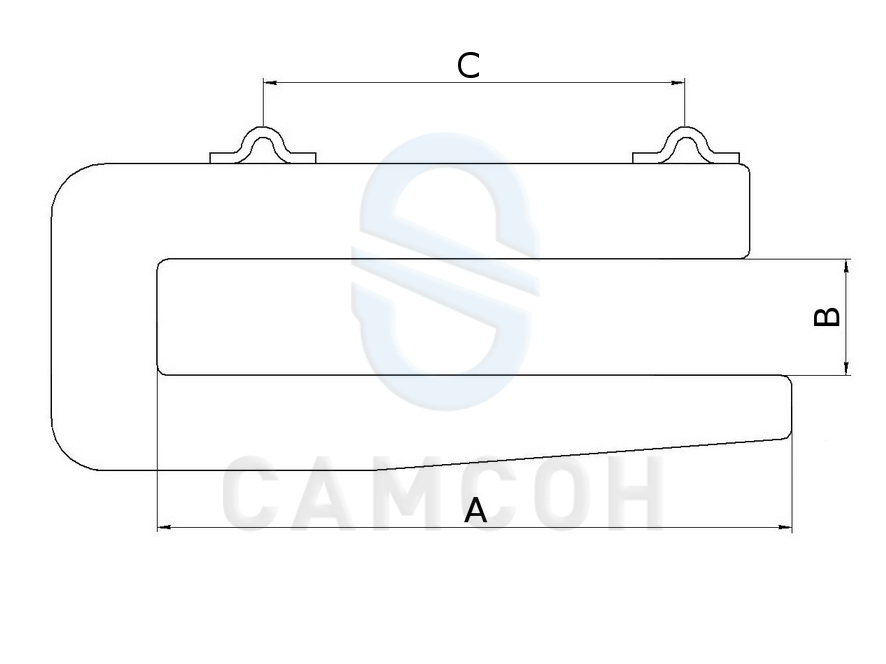 | | | | | | | |
| --- | --- | --- | --- | --- | --- | --- |
| Designation | g / p, t | AND | IN | FROM | Grips | Weight, kg |
| KGP 04 - 1.6 - 820 | 1.6 | 820 | 200 | 600 | ZLM - 1.0 - 820 - 200 | 100 |
| KGP 04 - 1.6 - 1050 | 1.6 | 1050 | 200 | 700 | ZLM - 1.0 - 1050 - 200 | 125 |
| KGP 04 - 1.6 - 1200 | 1.6 | 1200 | 220 | 800 | ZLM - 1.0 - 1200 - 220 | 145 |
| KGP 04 - 1.6 - 1350 | 1.6 | 1350 | 220 | 900 | ZLM - 1.0 - 1350 - 220 | 174 |
| KGP 04 - 1.6 - 1500 | 1.6 | 1500 | 220 | 1000 | ZLM - 1.0 - 1500 - 220 | 190 |
| KGP 04 - 2.0 - 820 | 2.0 | 820 | 200 | 600 | ZLM - 1.25 - 820 - 200 | 125 |
| KGP 04 - 2.0 - 1050 | 2.0 | 1050 | 200 | 700 | ZLM - 1.25 - 1050 - 200 | 145 |
| KGP 04 - 2.0 - 1200 | 2.0 | 1200 | 220 | 800 | ZLM - 1.25 - 1200 - 220 | 175 |
| KGP 04 - 2.0 - 1350 | 2.0 | 1350 | 220 | 900 | ZLM - 1.25 - 1350 - 220 | 190 |
| KGP 04 - 2.0 - 1500 | 2.0 | 1500 | 220 | 1000 | ZLM - 1.25 - 1500 - 220 | 210 |
| KGP 04 - 2.5 - 820 | 2.5 | 820 | 200 | 600 | ZLM - 1.6 - 820 - 200 | 155 |
| KGP 04 - 2.5 - 1050 | 2.5 | 1050 | 200 | 700 | ZLM - 1.6 - 1050 - 200 | 185 |
| KGP 04 - 2.5 - 1200 | 2.5 | 1200 | 220 | 800 | ZLM - 1.6 - 1200 - 220 | 215 |
| KGP 04 - 2.5 - 1350 | 2.5 | 1350 | 220 | 900 | ZLM - 1.6 - 1350 - 220 | 245 |
| KGP 04 - 2.5 - 1500 | 2.5 | 1500 | 220 | 1000 | ZLM - 1.6 - 1500 - 220 | 275 |
| KGP 04 - 3.2 - 820 | 3.2 | 820 | 200 | 600 | ZLM - 2.0 - 820 - 200 | 125 |
| KGP 04 - 3.2 - 1050 | 3.2 | 1050 | 200 | 700 | ZLM - 2.0 - 1050 - 200 | 145 |
| KGP 04 - 3.2 - 1200 | 3.2 | 1200 | 220 | 800 | ZLM - 2.0 - 1200 - 220 | 175 |
| KGP 04 - 3.2 - 1350 | 3.2 | 1350 | 220 | 900 | ZLM - 2.0 - 1350 - 220 | 190 |
| KGP 04 - 3.2 - 1500 | 3.2 | 1500 | 220 | 1000 | ZLM - 2.0 - 1500 - 220 | 210 |
Contact the seller
KGP for lifting stairs