Rope branch VK according to GOST 25573-82
Reconfirm the price with seller
Invoice payment,
Visa/Mastercard,
Cash on delivery,
L/C - Letter of Credit,
D/P - Documents against Payment,
D/A - Documents against acceptance
Customer pickup,
Courier,
Transport company
Less than 1 year old on Allbiz
Technical characteristics
Country of manufacture

Russia
Description
Manufactured in accordance with the requirements of TR CU 010/2011,
GOST 25573 - 82, RD 10 - 33 - 93 (with amendments No. 1 RD 10 - 231 - 98),
FNP PB OPO
Production: LLC "SAMSON" , Russia
We make slings from steel and galvanized rope.
Appointment
Steel rope slings (also known as chalki) are manufactured in accordance with GOST 25573 - 82 and are intended for use as lifting devices in construction, industrial plants and storage facilities, river and sea ports, shipbuilding and the nuclear industry, railway transport.
Rope VK branches are most often used to assemble multi - branch rope slings, however, they can act as an independent load - gripping device. In practice, rope strands are used as stretchers or standing rigging.
Advantages
high strength and durability;

safety factor 6: 1;

the ability to compensate for dynamic loads;

the ability to use slings at high temperatures - up to + 400 ° С (taking into account the coefficients reducing the carrying capacity);

gradual destruction of the line during overload, which makes it possible to notice it in the early stages;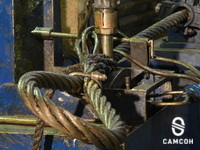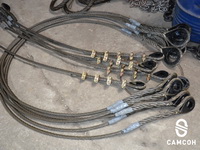 Contact the seller
Rope branch VK according to GOST 25573-82